Snoop Dogg, Wiz Khalifa, Too $hort, and More: High School Reunion Tour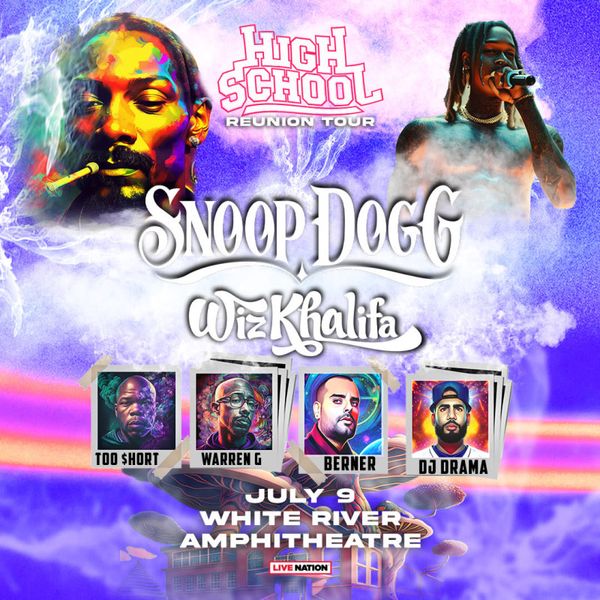 The following description was submitted by the event organizer.
"One of the most iconic figures to emerge from the early-'90s G-funk era, Snoop Dogg evolved beyond his gangsta rap beginnings to become a lovable pop culture fixture with forays into television, movies, football coaching, and wrestling while expanding his musical reach far beyond his primary genre. Introduced through Dr. Dre's Top Five rap hit "Deep Cover" (1992), Snoop quickly became one of the most famous stars in rap, partially due to his drawled, laconic rhyming, as well as the realistic violence implied in his lyrics. His own Doggystyle (1993) become the first debut album to enter the Billboard 200 at number one, and featured the Top Ten pop hits "What's My Name" and "Gin and Juice." After the popularity of gangsta rap waned in the late '90s, he proved himself to be a masterful chameleon, riding his pot-loving image in various directions that helped buoy his career through the 2000s. His biggest hits as a lead artist during the first decade of the 21st century included "Beautiful" (2003) and the chart-topping "Drop It Like It's Hot" (2004), and he was also featured on a slew of major hits by fellow rappers, R&B crooners, and pop groups alike. The 2010s saw him branch out into reggae (2013's Reincarnated), house (as a DJ), and gospel (2018's Bible of Love), but he has remained hip-hop at his core, releasing projects in the 2020s such as The Algorithm (2021), his first album as executive creative consultant for Def Jam, and BODR (2022), which marked a return to Death Row Records, his first label home.
Nicknamed Snoop by his mother because of his appearance, Calvin Broadus was raised in Long Beach, California, where he frequently had trouble with the law. Not long after his high school graduation, he was arrested for possession of cocaine, beginning a period of three years when he was often imprisoned. He found escape from a life of crime through music. Snoop began recording homemade tapes with his friend Warren G, who happened to be the stepbrother of N.W.A's Dr. Dre. Warren G gave a tape to Dre, who was considerably impressed with Snoop's style, and began collaborating with the rapper" (via Spotify)
Public Onsale Starts
Fri 03/10/23 @ 9:00 am PST