The Round 215: Miguel Escobar, Her Mountain Majesty, Erika Lundahl, Gracia, and Laura Kim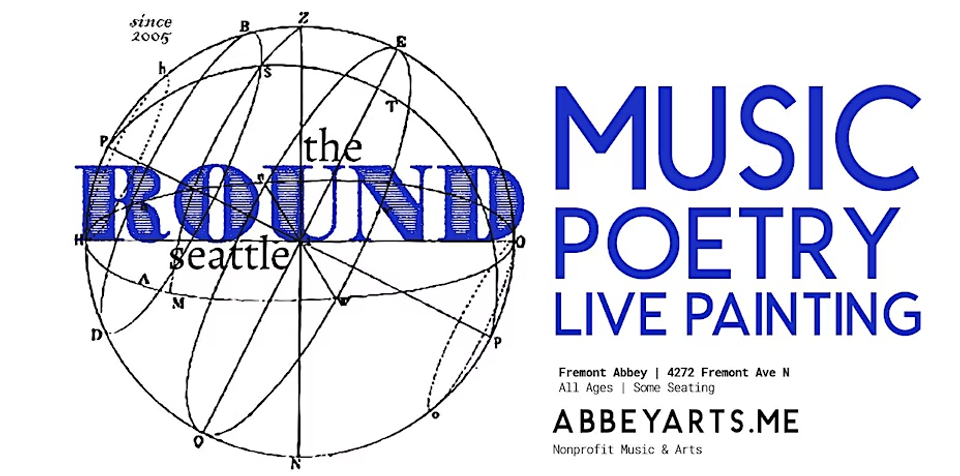 The following description was submitted by the event organizer.
4/4 The Round (215) featuring musicians
Miguel Escobar,
Her Mountain Majesty,
Erika Lundahl
+ spoken word poet Laura Kim
& live painter Gracia
MIGUEL ESCOBAR: miguelescobar.bandcamp.com
"Chicago-born graduate student. Interested in politically-conscious self-inquiry; public, shared questioning; and sounds that make a big brown man feel beautiful."
HER MOUNTAIN MAJESTY: hermountainmajesty.com
"Based in Seattle, WA, Her Mountain Majesty is the music project of Andi Lee Scher, a singer-songwriter & multi-instrumentalist originally from outside Baltimore, MD. Recently described as "Mountain Rock", Her Mountain Majesty pours out raw emotion with boot-stomping rhythms woven in soul-affirming notions of connection and belonging. As if calling on fellow restless spirits and rebellious hearts to reimagine what the world might look like if we come together in presence with one another, Her Mountain Majesty builds an energetic forcefield of joy and togetherness while rocking stages in the Pacific Northwest."
ERIKA LUNDAHL: erikalundahl.com
"Erika Lundahl is a musician and climate justice activist, living on traditional Duwamish Land, in Seattle. She employs her classically trained voice and distinctive "tapping" guitar style to create an enveloping, earth-centered musical space. Her poetic, often autobiographical lyrics employ poignant and powerful imagery to deal with contemporary social issues. Her band's debut album "Songs of Shattering," released in 2015 was inspired by the poetry of Edna St. Millay and debut onto CMJ's top 200 albums of college radio in March 2016. Her recent live in-studio album 'Right Back at You' recorded at London Bridge Studios features the moving storytelling and talented performance that Erika is known for. She tours the Pacific Northwest in her electric vehicle, from Vancouver, CA to San Francisco in late 2018."
LAURA KIM: drunkinamidnightchoir.wordpress.com
"Laura Kim (they/she) is a poet who was born in Seoul & grew up in Seattle. They have been writing and performing for over ten years, featuring locally and in Korea. Additionally, they are a community organizer who has curated benefit shows for nonprofits including Crisis Connections, Korea Unwed Mothers Association, Dding Dong LGBTQ Youth Center, Be: Seattle, and more. Most recently, they had their first book, "The Motherland," an anthology of poetry written by Korean adoptees & Korean Single mothers published in 2018. They hope to use poetry as a means of healing, social justice advocacy, and heartfelt connection. "
GRACIA: graciatheartist.com
"Gracia The Artist was once dubbed a Multimedia Experimentalist.
It stuck.
Creative Director - Cinematographer - Photographer - Illustrator - Painter - with interests in storytelling, comedy, collaboration and elevating humanity; living in Seattle, WA. [available worldwide]."