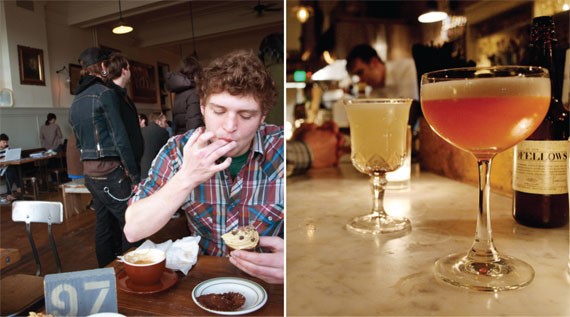 Created by bar maven Linda Derschang (of Linda's, etc.), Oddfellows is a crowd-pleasing Capitol Hill fixture. The space—a giant, high-ceilinged, beautifully beamed room with scarred wooden floors, exposed brick, stern photos of old-timey people (including the building's founding fraternal order), and so forth—is a grown-up dream of a cafeteria, good for hanging out anytime. Stumptown coffee and light breakfasts are served in the morning, then a full menu until midnight (followed by two hours of straight-up bar time). On offer: an array of hot and cold sandwiches, salads, and comfort-food favorites (from mac 'n' cheese and beef stew to shepherd's pie and braised pork shank). The food is generally fair to middling, but the baked goods are great—the Bullseye, which is an egg baked into a cheddar-bacon biscuit, is a brilliant idea executed marvelously, and the sweet things are fantastic, too.
Upcoming Events
at Oddfellows Cafe + Bar
We didn't find any upcoming events at this location.
---