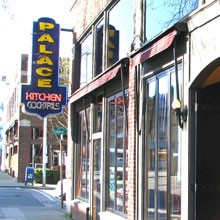 Hands down the best of Tom Douglas's 436 Seattle restaurants, the Palace Kitchen will please both out-of-town visitors and jaded locals. It's a longtime (since 1996!) late-night favorite for those who have the cash—the full menu is served until one o'clock in the morning. The Palace Burger is possibly the original gourmet burger in the city. Hold out for a booth; you can wait at the bar.
Make reservations for Palace Kitchen here.
Map & Directions
Upcoming Events
at Palace Kitchen
We didn't find any upcoming events at this location.
---