Harley Quinn: Birds of Prey
Since movie theaters across the country are shut down due to COVID-19, Warner Bros. will digitally release Harley Quinn much earlier than usual, only a few weeks after its theatrical release date. Starting Tuesday, March 24, you can buy this movie on Amazon, Google Play, Vudu, and more.
---
Birds of Prey is Harley Quinn/Margot Robbie's show, and just like in the not-so-great Suicide Squad, it's a show she clearly steals. Cathy Yan's direction is both spry and delicious, and if the plot occasionally drags, the action and fight scenes are wild, juicy, and comically over the top, and the choreography is better than any superhero movie in recent memory. While the other cast members may have trouble keeping up with Robbie's laser-focused characterization, Birds of Prey is a feisty, fun, and distinctly feminist take within a glut of male-oriented superhero cinema.
by
Wm. Steven Humphrey
Showtimes & Tickets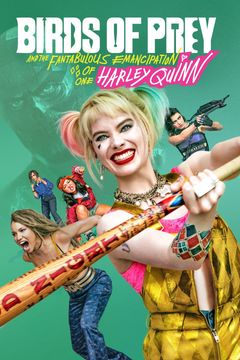 Trailer