Another week in 2020, another full slate of amazing Things to Do to stay busy in the best way, like saying Hello from the Magic Tavern, saying hi to all the puppers at the Rose City Classic, enjoying some great homegrown comedy as always, and that's not even getting into the veritable tons of good music taking stages all over the city. Hit the links below and plan your week accordingly
---
---
Jump to:
Monday
|
Tuesday
|
Wednesday
|
Thursday
---
Monday, Jan 13
Heilung
Roseland hosts a sold-out show with this experimental folk band with roots in Denmark, Norway, and Germany, who self-describe their music as an "amplified history from early medieval northern Europe." (Mon Jan 13, 8 pm, Roseland, all ages)
Portland Trail Blazers vs. Charlotte Hornets
The Blazers look to close out a quick two-game homestand with a win against former fan-favorite Nicolas Batum and the Hornets. (Mon Jan 13, 7 pm, Moda Center, $12.50 & Up, all ages)
Also sprach Zarathustra
The big-ticket attraction is the chance to hear the Oregon Symphony tear into Richard Strauss' Also sprach Zarathustra, the tone poem best known for its use in the opening and closing moments of 2001: A Space Odyssey. The true draw for this run of shows is an appearance by violinist Leila Josefowicz, who will be on hand to perform "Scheherazade.2," a lush, oblique symphony written expressly for the musician by brilliant composer John Adams, and a performance of Charles Ives' haunting "The Unanswered Question," which the Symphony recorded for its Grammy-winning album Music for a Time of War. (Mon Jan 13, 7:30 pm, Arlene Schnitzer Concert Hall, $24 & Up) ROBERT HAM
Cage Uncaged: Vampire's Kiss
The Hollywood's latest screening series pays tribute to the madness of Nicolas Cage by putting some of his most out-there roles on their big screen, but tonight's entry is an extra-special treat, not only because almost nobody has ever seen this exceedingly weird movie in a theater, but because Cage delivers one of the absolute most-unhinged performances in a very long career. If "Cage Rage" can be said to have a birthplace—it's this movie. (Mon Jan 13, 7:30 pm, Hollywood Theatre)
---
Tuesday, Jan 14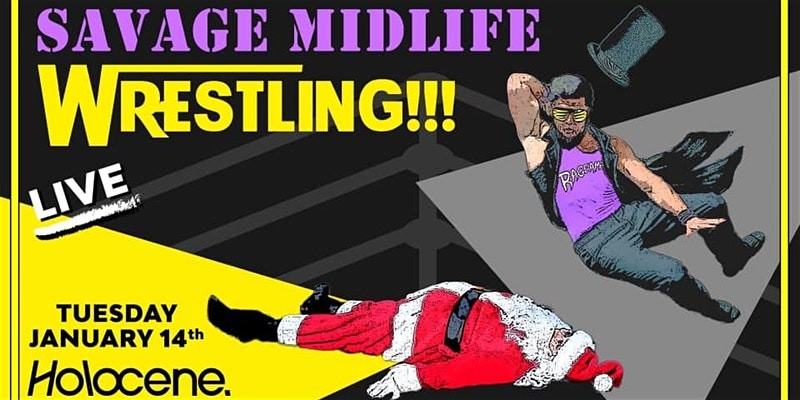 Savage Midlife Wrestling
Holocene brings the rumble with a night of high flying action and ground pounding excitement, featuring hard-hitting bouts between Paul "Sexy Pants" Preston and Justex Citing, The Cool Heels and Konami Code, and Malcolm Phlex and Dr. Kliever. Proceeds benefit SOAR Immigration Legal Services' Citizenship Day and the making of Savage Midlife, a new film from the creators of Neil Stryker and the Tyrant of Time. (Tues Jan 14, 6:30 pm, Holocene, $15-20)
They Came from the Bins!
Kickstand Comedy hosts the latest in this improv showcase that uses the Goodwill bins as a source of inspiration for off-the-top scenes of creativity and yes, madness too. Hosted by Michael Zimmer. (Tues Jan 14, 9 pm, Kickstand Comedy Space, $5, all ages)
Kung Fu Theater: Shogun Assassin
Probably one of the most badass movies ever made, 1980's Shogun Assassin tells the heartwarming story of a samurai, his adorable toddler son, a lethally tricked-out baby carriage of doom, and the duo's quest for bloody, bloody vengeance. (Tues Jan 14, 7:30 pm, Hollywood Theatre, $7-9) ERIK HENRIKSEN
Hyperbella, Veana Baby, Jessica Manalo
Phoenix-based quartet Hyperbella brings their intergalactic neo-soul to Portland in support of their self-titled debut. Veana Baby and Jessica Manalo round out the bill. (Tues Jan 14, 9 pm, No Fun, $7)
Burlynomicon: A Darkly Decadent Burlesque Revue
Another month, another night of Lovecraft-themed burlesque produced by Natasha Riot, celebrating the careful blend of sexiness, outrageousness, and uncomprehending madness from the beyond. Featuring performances from Lily Le Fauve, Phallus Johnson, Jaxin Ryan, and Seattle's Morgue Anne Morrighan. (Tues Jan 14, 8:30 pm, The Lovecraft, $15)
A Kids Book About Body Image
Author and psychotherapist Rebecca Alexander reads and signs copies of her new book, A Kids Book About Body Image, helping kids of all races, genders, and sizes have a better understanding of body image and tune out the noise and unhealthy messaging that often surrounds the topic. (Tues Jan 14, 5:30 pm, The Riveter, $5-20, all ages)
---
Wednesday, Jan 15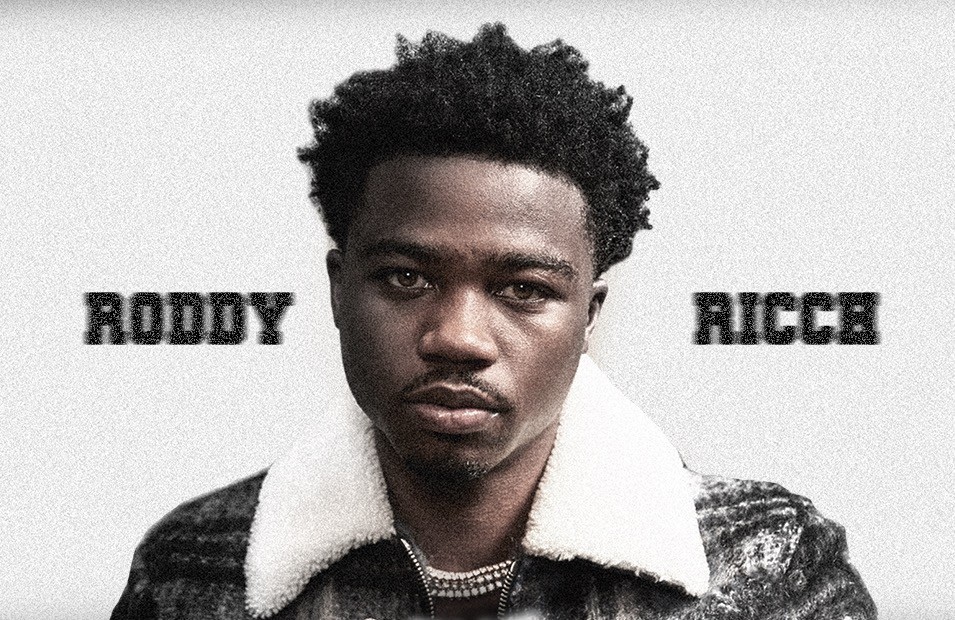 Roddy Ricch
Armed with three Grammy nominations, Compton singer/rapper Roddy Ricch exploded onto the national stage after making a name for himself in South Los Angeles. A friend and collaborator of the late rapper and LA icon Nipsey Hussle, his voice appears in Hussle's "Racks in the Middle," which is nominated for both Best Rap Song and Best Rap Performance. The third nod from the Grammys comes due to his contribution to prolific producer Mustard's "Ballin'," a track about stunting and the come-up. The 20-year-old rapper has a sound and vibe that suits trap beats as well as R&B riffs. You won't want to miss this. (Wed Jan 15, 8 pm, Roseland, $25-100, all ages) JASMYNE KEIMIG
Hello From the Magic Tavern
One of the funniest podcasts in existence, Hello from the Magic Tavern is the work of three phenomenal improv artists from Chicago, and follows regular guy Arnie Niekamp, who fell through a dimensional rift behind a Burger King, landed in the magical realm of Foon, and, naturally, started a podcast. Recording the show in the Vermillion Minotaur tavern, Arnie's joined by co-hosts Chunt (Adal Rifai), a chill, shape-shifting badger, and Usidore (Matt Young), a pompous wizard on a very important quest. Arnie & Co. are joined by all kinds of weirdos from Foon, and the results are hilarious, unpredictable, and, occasionally, deeply disturbing. Oh shit! Since the Magic Tavern guys are in Portland to perform a live episode, Usidore might curse me—I just called him Usidore, but he insists on using his full name! So here goes: I meant to call him Usidore, Wizard of the 12th Realm of Ephysiyies, Master of Light and Shadow, Manipulator of Magical Delights, Devourer of Chaos, Champion of the Great Halls of Terr'akkas. The elves know him as Fi'ang Yalok! The dwarves know him as Zoenen Hoogstandjes! And he is also known in the Northeast as Gaismunēas Meistar! (Wed Jan 15, 8 pm, Revolution Hall, $30) ERIK HENRIKSEN
Magpie Release Party
Andie Main is back home for the holidays... well, actually, the holidays been over, and she's actually back home to celebrate the release of her Blonde Medicine records debut album, Magpie, and she's bringing her friends Phil Schallberger, Nariko Ott, Dan Weber, and Christian Burke to lend their stand-up support to the night's festivities. (Wed Jan 15, 8 pm, Helium Comedy Club)
Nada Surf, Apex Manor
On February 7, not long after Nada Surf plays their headlining show at the Doug Fir Lounge, the steadfast quartet of indie rockers will release their ninth studio album Never Not Together. By that point, the group's new songs, written by its well-coiffed leader Matthew Caws, will likely be ringing through your head, each sparkling guitar hook and New Wave-informed, power pop-infused melody gnawing at your memory as you wait to get your hands on a copy of the new LP. It will only make the feeling of hearing these songs in their recorded form that much more wonderful. (Wed Jan 15, 9 pm, Doug Fir, $27.50-30) ROBERT HAM
Bitches in the Beehive, Kiki & The Dowry, June Magnolia
A trio of up-and-coming local outfits holds court at Holocene to open up the new year with a dynamic array of blues- and psych-tinged folk-rock. (Wed Jan 15, 8:30 pm, Holocene, $8)
Easy There Tiger, Idle Joy, Wax Statues
Local instrumental funk-rock outfit Easy There Tiger make their way back to Bunk, with help from their friends Idle Joy and Wax Statues. (Wed Jan 15, 8:30 pm, Bunk Bar, $8)
Re-Run Theater: The Hobbit
Before Peter Jackson's crazy ass achieved the impossible and translated Lord of the Rings to live-action, fans of Hobbits had to make do with Ralph Bakshi's rotoscoped hell of a half-adapted animated film, and the works of stop-motion holiday special barons Rankin-Bass, who made a pseudo-sequel to Bakshi's film in the '80s, but who first introduced TV audiences to Bilbo Baggins in 1977's The Hobbit. The character designs are strikingly ugly, but the animation is surprisingly okay—which might be due to the fact Japanese animation studio Topcraft worked on it. (Topcraft would later become Studio Ghibli, btw.) So yeah, it looks really funky, and there's way too much AM-radio folk schlock crammed in here, but it's still the most faithful adaptation of Tolkien's humble little children's book. (Wed Jan 15, 7:30 pm, Hollywood Theatre, $7-9)
---
Thursday, Jan 16
Cold War Kids, Overcoats
Long Beach, California's Cold War Kids bring their soulful blend of blues-tinged indie rock back to the Crystal Ballroom for an all-ages show supporting their latest, New Age Norms 1, the first release in a new trilogy from the band. (Thurs Jan 16, 8:30 pm, Crystal Ballroom, $32-34)
Kulululu, Maurice & the Stiff Sisters, Toyboat Toyboat Toyboat
Mississippi Studios serves up an evening of laid-back groove pop with more than a little horn action involved thanks to the efforts of Maurice & the Stiff Sisters, who are celebrating the release of their newest album, Welcome to Love. Local art-punk shapeshifters Kulululu and Toyboat Toyboat Toyboat round out the proceedings. (Thurs Jan 16, 9 pm, Mississippi Studios, $10-12)
My Real Portland: The Big Stage
The local podcast spotlighting comedy, storytelling, music, and art in the Portland community steps out of the Jade Lounge and into the Clinton Street Theater for the program's first-ever big stage installment. Special guests include Rejected Film Festival Founder Jenna Vesper, comedian D Martin Austin, Clinton Street Theater owner Lani Jo Leigh, plus the launch of the Reformers new series of neo-horror sci-fi radio stories, and a game show that will test the audience's knowledge of the last decade in Portland. (Thurs Jan 16, 7 pm, Clinton Street Theater, free)
The King Khan & BBQ Show
BBQ's double-duty ramshackle drum kit and Khan's fierce guitar-playing power forward with smart, raw songs delivered with wry humor and sardonic wit. The King Khan and BBQ Show are always terrific live, making soul-dance nights seem boring by comparison. (Thurs Jan 16, 9 pm, Dante's, $15) TRAVIS RITTER
Itzhak Perlman plays Beethoven
Conductor Norman Huynh and the Oregon Symphony combine forces with violin virtuoso Itzhak Perlman for a rousing performance of Beethoven's Violin Concerto, with the Symphony tackling Barber's "Symphony No. 1" and Tchaikovsky's "Capriccio Italien" to round out the program. (Thurs Jan 16, 7:30 pm, Arlene Schnitzer Concert Hall, $40 & Up)
Buck Meek, Twain
The Big Theif guitarist finds some time to break away and uses it to bring his own distinct Texas twang and outlaw country sounds to the Doug Fir Lounge. (Thurs Jan 16, 9 pm, Doug Fir, $12-14)
Collate, Nylon, Miracle
A trio of top-notch Portland no wave and art-punk outfits unleash their latest in Kenton as part of an all-ages show at Speck's Records and Tapes. (Thurs Jan 16, 7 pm, Speck's Records and Tapes, free, all ages)
Starover Blue, Silver Medal, Young Elk
The Portland-via-San Jose dream-pop band comprised of Kendall Sallay and Dirk Milotz heads up a hometown show at Holocene that doubles as an EP release party for the latest from Silver Medal. Local ambient rock and alt-country quartet Young Elk round out the bill. (Thurs Jan 16, 8:30 pm, Holocene, $8-10)
Shannon Entropy, Rainbow Face, The Norms
Steeped in a wild mix of styles, Portland's Shannon Entropy extend beyond the parameters of so many other local pop-rock bands. (Thurs Jan 16, 8:30 pm, The World Famous Kenton Club, free) RYAN J. PRADO
Don't forget to check out our Things To Do calendar for even more things to do!