Let's just go ahead and call it: Halloween is here! Or at least, this weekend is when it unofficially starts. If you want to spook yourself, there's more than enough scary movies to go around, as well as a Seance Party, some Bollywood Horror, Killer Pumpkins, Boo Cruises, and Erotic Balls (!) And that's just the first grab at the candy bowl! Hit the links below and fill your weekend up accordingly.
---
Jump to:
Friday
|
Saturday
|
Sunday
---
Friday, Oct 25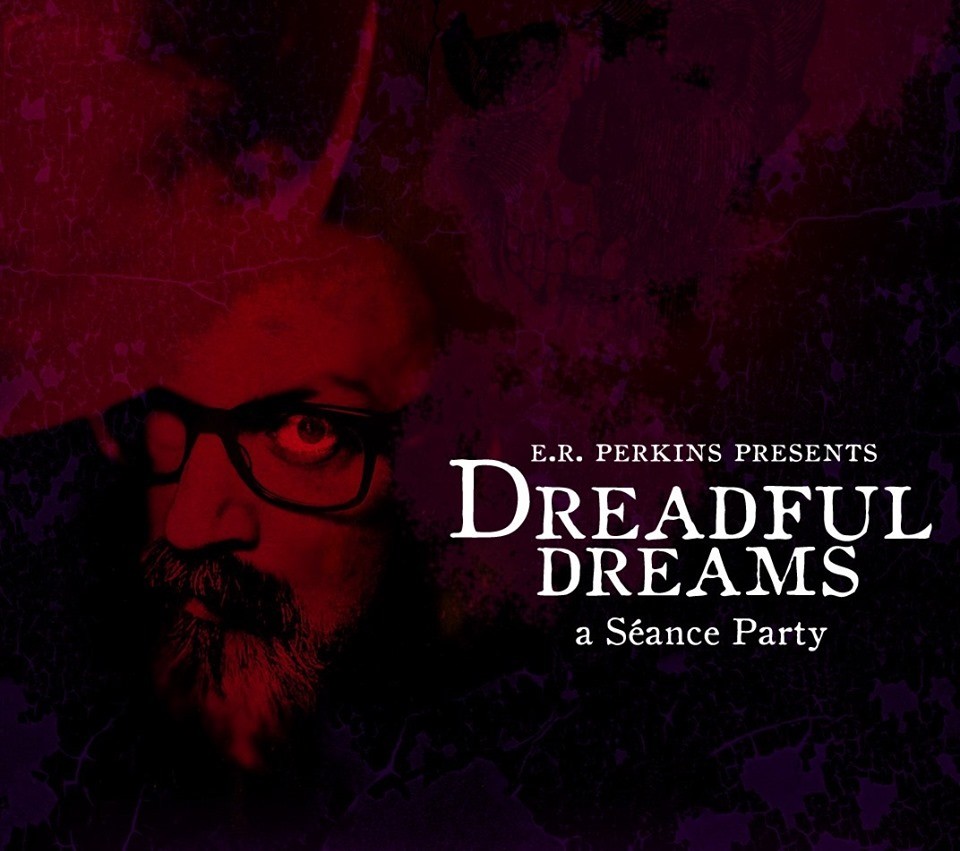 Dreadful Dreams: A Séance Party
The best local Halloween show I've ever seen was ER Perkins' Seance Party, in which talented local performer Loren Hoskins portrays "paranaturalist" Perkins, who's funny, fussy, and summons the dead. Perkins returns with a brand-new show called Dreadful Dreams which promises an interactive theatrical experience "full of strange ceremony, metaphysical comedy, and genuine attempts at spirit contact." Guys, this show is GOOD and FUN. GO. (Fri-Sat Oct 25-26, 10:30 pm, Siren Theater, $15-20) WM. STEVEN HUMPHREY
LadiesFirst! Hip-Hop/Soul Showcase
Set in the Jack London's cozy basement bar, the Ladies First: Hip-Hop/Soul Showcase brings together some of the town's stalwart music acts. From rapper/radio personality KayelaJ to MC/loop-pedal maestro Lisa Vazquez to a high-energy performance from Karma Rivera, there's lots to see here. But perhaps the most moving part of the evening will be a partially improvised set from soul singer/multi-instrumentalist Amenta Abioto, who also uses looping techniques to create her music, weaving vocal sounds together with kalimba, synths, drum machine, and guitar. Originally from Nashville but residing in Portland, Abioto's soothing Southern accent and joyful experimentalism are like a breath of fresh air. (Fri Oct 25, 9:30 pm, Jack London Revue, $15-20) JENNI MOORE
The Legendary Pink Dots
Categorizing the Legendary Pink Dots is a fool's errand. Led by multi-instrumentalists Edward Ka-Spel and Phil Knight, the long-standing ensemble has dabbled in whatever musical element hooves into their collective view. Over their nearly 40-year existence, that has included excursions into neo-psychedelia, industrial rock, ambient, or arch pop punctuated by bursts of raw noise. On the group's latest album, Angel in the Detail, the Dots set the wispy vocals of Ka-Spel and his philosophical lyrics over a synthetic backdrop that evokes the throbbing allure of the dance floor or the drowsy visions of an opium den. (Fri Oct 25, 8 pm, Polaris Hall, $25-30) ROBERT HAM
Y La Bamba
Portland-based indie band Y La Bamba just released a seven-track EP called Entre Los Dos, the follow-up to their excellent 2019 LP Mujeres, which Rolling Stone called "food for the bicultural soul." Led by Mexican American singer Luz Elena Mendoza, Y La Bamba puts the frontwoman's self-contemplation and exploration of her rich heritage at its heart's center, garnering the band critical acclaim, and a recent performance on NPR's Tiny Desk Concert series. Y La Bamba is celebrating this new EP with a sure-to-please release party at Doug Fir Lounge, joined by the excellent Noche Libre, along with Reyna Tropical. (Fri Oct 25, 9 pm, Doug Fir, $16-20) JENNI MOORE
The Texas Chainsaw Massacre
Tobe Hooper's debut feature is also his magnum opus, which is also a lot more subtle than both its title and your memories might have it. Hooper's southern-fried horror classic is notable for how violent it isn't—Massacre nails its oppressively disconcerting tone through almost perfect pacing, framing, and amateur performances whose rawness lends sweaty desperation to an increasingly breathless movie, steadily escalating to a full-on hyperventilating freakout of almost incoherent imagery that just... stops. Hooper never got this good again, but almost nobody else in the genre has either. (Fri Oct 25, 7:30 pm, Hollywood Theatre, $7-9) BOBBY ROBERTS
Ghostemane, Lil' Tracy, Harm's Way, Horus The Astronee, Parv 0
Florida-hailing rapper Eric Whitney, better known by his stage name Ghostemane, brings his hardcore-tinged hip-hop to the Roseland stage for the Portland stop on his "Hiadica" Tour. Lil' Tracy, Harm's Way, Horus The Astronee, and Parv 0 round out the all-ages bill. (Fri Oct 25, 7 pm, Roseland, $25, all ages)
'80s Video Dance Attack's Monster 2-Floor Halloween Party
The annual '80s Video Dance Attack Halloween Party returns to the Crystal Ballroom and Lola's Room with a special spooky installment to kick-start your Halloween weekend. The top floor is classic Dance Attack experience (except with way more candy corn), while Lola's Room puts a strong focus on the New Wave hits, so if you're feeling a little post-punky or goth, you know where to go. Come dressed to impress for a chance to win a big prize in the costume contest. (Fri Oct 25, 8 pm, Crystal Ballroom, $25)
Welcome to Portlandsterdam
A huge party for Swiggle Mandela's new album, and also for his 29th birthday, and to commemorate the dual achievement, he's bringing a ton of Portland's finest to the stage with him, including Cool Nutz, RC Spitta, Mic Crenshaw, Jasey Cordeta, and many, many more. Hosted by Shrista Tyree, with DJ Arcadia Beats on the decks. (Fri Oct 25, 9 pm, Bit House Saloon)
Weinland
Portland music scene fixture Adam Shearer (AKA John Weinland) brings his beloved folk-rock outfit to the stage at Mississippi Studios for a rare and intimate show celebrating the venue's 15th anniversary. (Fri Oct 25, 9 pm, Mississippi Studios, $18-20)
Freeform's Haunted Prom
The beloved volunteer-run and listener-supported radio station throws a Halloween Prom at the Kenton Club, with live cover sets from Someday Girls (Blondie), Feet Happening (Beat Happening), Love is a Trashcan (The Raveonettes), along with spooky interludes from an array of Freeforms DJ's. (Fri Oct 25, 8 pm, The World Famous Kenton Club, $7)
Noah Kahan
Fresh off a tour supporting James Bay, Vermont-hailing singer/songwriter Noah Kahan brings his folk-infused pop back to town for a headlining show supporting his debut album, Busyhead. (Fri Oct 25, 8 pm, Wonder Ballroom, $20, all ages)
Collie Buddz, Keznamdi
New Orleans-born and Bermuda-raised singer/songwriter Collie Buddz brings his blend of dancehall reggae back to town to open up Portland's newest venue along with assistance from Jamaican singer/songwriter Keznamdi. (Fri Oct 25, 9 pm, Stage 722, $25, all ages)
D.R.I., Intent
Widely credited as pioneers of melding hardcore punk with thrash metal, Houston, Texas' D.R.I. (Dirty Rotten Imbeciles, if you're nasty) have trudged along for over 30 years, seven studio albums, and an impressive amount of worldwide touring. (Fri Oct 25, 9 pm, Dante's, $16) RYAN J. PRADO
---
Saturday, Oct 26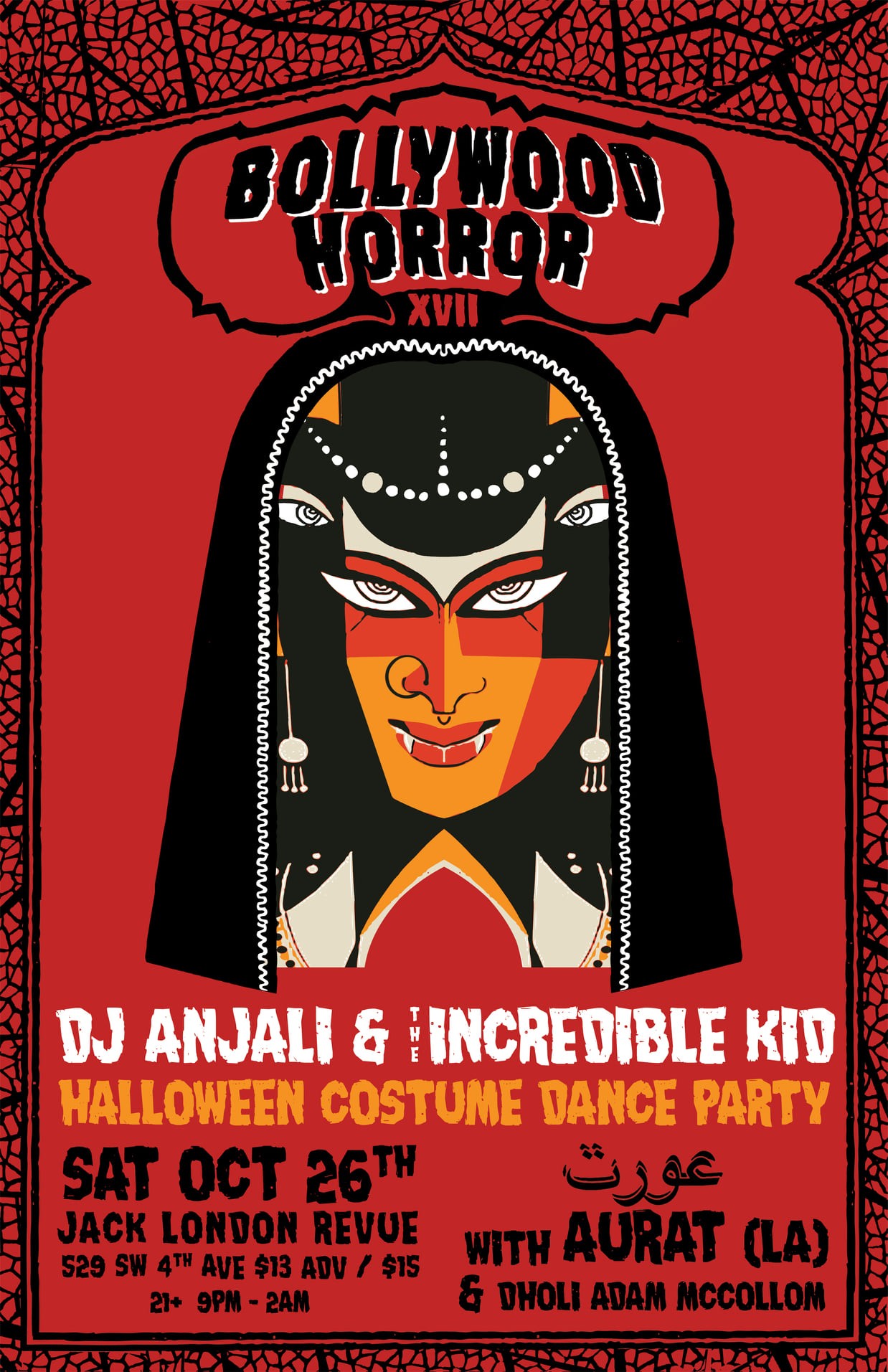 Bollywood Horror XVII Halloween Party
DJ Anjali and the Incredible Kid head up a Halloween installment of their bhangra, Bollywood, and desi bass dance night. The dynamic duo will be flanked by Adam McCollom on the dhol drum and Los Angeles-based desi darkwave outfit Aurat, along with a sea of costumed revelers getting down to thundering beats from South Asia and beyond. (Sat Oct 26, 9 pm, Jack London Revue, $13-15) CHIPP TERWILLIGER
Dinosaur Jr., Steve Gunn
It's getting really depressing to note the frequency with which seminal albums from my youth are celebrating their 25th anniversary this year. But here we are, trapped in the existentialist malaise of a world where Dinosaur Jr.'s 1994 breakthrough Without A Sound is all grown-up. Of course, the project felt mature when it dropped, and it might be the first album by the band where the detached emotionalism in J. Mascis' songwriting was first fully honed. The band hasn't lost a step. And while on the surface, their pairing with Steve Gunn for this tour might seem mismatched, Mascis and Gunn are two of the most dynamic guitarists performing in America today. (Sat Oct 26, 9 pm, Wonder Ballroom, $35) RYAN J. PRADO
Boo Cruise
This Halloween is guaranteed to feature an overflowing pillowcase of spooky dance nights, but this is going to be the only one on a boat, with a custom bistro menu for the nibbles, three bars (one per deck) for the drinks, and live music from Generator leading revelers through a playlist that includes soul, blues, rock, and Motown classics. (Sat Oct 26, 11 pm, Portland Spirit, $35-45)
Peche Fest
For the eighth year in a row, Saraveza celebrates the peach, and all the wonderful ways you can make it into something that will get you drunk, featuring over 20 beers and ciders from some of the country's best brewers. Admission includes two drink tickets and a collectible glass, with additional tickets at $2 each, or three for $5. (Sat Oct 26, noon, Saraveza, $15)
The 20th Annual Portland Erotic Ball
Halloween doesn't get much hotter than the annual Erotic Ball, which celebrates its 20th anniversary this year. Expect live bands, DJs, dancing, burlesque, aerialists, a participatory fetish demonstration stage (!), and YOU dressed in your sexiest costume (or something even more revealing). You see why this event always sells out, so hurry, hurry. (Sat Oct 26, 9 pm, Crystal Ballroom, $55-110) WM. STEVEN HUMPHREY
I Want Candy
Have an excessive amount of neon and a passion for Joy Division? Get your buns to the Spare Room's Halloween soiree—a neon costume party set to New Wave tunes—hosted by retro record-spinners DJ Gregarious and DJ Cooky Parker. Guaranteed to include tricks and treats. (Sat Oct 26, 9 pm, The Spare Room, $10) ALEX ZIELINSKI
Wale, Deante' Hitchcock, ADÉ, Young Chris
Acclaimed Washington, D.C. rapper Olubowale Victor Akintimehin, better known by his stage name Wale, brings his live show to the Hawthorne Theatre stage for an all-ages Portland stop on his "Everything is Fine" Tour. (Sat Oct 26, 8 pm, Hawthorne Theatre, $26.50-30)
Oranssi Pazuzu, Insect Ark, WILL
The Finnish psychedelic black metal outfit whose name is derived from the Finnish word for "orange" and Pazuzu, a wind demon from Babylonian mythology, make their way to the Pacific Northwest to head up a Saturday-night show at the Star Theater. (Sat Oct 26, 9 pm, Star Theater, $17-20)
Rosemary's Baby
Can't help but shudder whenever you read the words "Roman Polanski"? You're not alone! The disconcerting Rosemary's Baby, at least, benefits from that feeling of already being thoroughly squicked out. Screens in 35mm. (Sat Oct 26, 7 pm & 9:45 pm, Hollywood Theatre, $7-9)
Killer Pumpkin Fest
A one-day mini-beerfest focused on the wonderfulness of taking pumpkins and turning them into beers, with Rogue providing a whole bunch of actual pumpkins to bowl, decorate, carve, and/or smash, with the kitchen providing a special pumpkin menu to pair with the abundance of pumpkin ales to sample. Also featuring costume contests for kids, grown-ups, and even your dogs. Proceeds benefit Camp Ukandu. (Sat Oct 26, 11 am, Rogue Eastside Pilot Pub & Brewery, $5, all ages)
Rose City Rollers: Whose Jam is it Anyway?!
The Rose City Rollers host a special fundraiser event at the Hangar, giving audience members the chance to donate money in order to tweak the rules, change the game, and upset the rhythm of the bout. (Sat Oct 26, 5 pm, The Hangar at Oaks Park, $20)
The Helio Sequence, Reptaliens, WL
The beloved local indie rock outfit hits the stage at Mississippi Studios to celebrate the venue's 15th anniversary with an intimate hometown show. (Sat Oct 26, 9 pm, Mississippi Studios, $22-25)
Phantom PDX
If you're a fiend for Halloween and you have access to the Redd, and the wherewithal to transform it into a horrorfied playground, you might come up with something like Phantom PDX... but it probably wouldn't be as fun, time-tested, and loud as the real Phantom PDX, full of live music, a giant video wall, multiple bars, lots of local food vendors, and a whole lot more Halloween-themed fun in store. (Sat Oct 26, 8 pm, The Redd on Salmon, $25-40)
Halloween ComicFest
Books With Pictures celebrates the spooky season by doing their part to participate in Halloween ComicFest, a mini comics-fest full of free comics, costumes (of course), facepainting, and more! (Sat Oct 26, 10 am, Books With Pictures, free)
Sip of Fall Beer Festival
Sip of Fall invites you out to Rossi Farms to spend Saturday sipping an array of autumn beers and ciders from the likes of Bauman's, Culmination, Gateway, Gigantic, Level, Migration, Montavilla, and Von Ebert. Offerings include a New England Style IPA, a Pumpkin Beer, a Spiced Imperial Red Ale, a Malty Lager, a Pumpkin Spiced Latte Cider, and more. For a complete list of brews, visit the event website. (Sat Oct 26, noon, Rossi Farms, $25-50)
---
Sunday, Oct 27
Laura Gibson, Chris Pureka
Goners, the fifth album from Portland singer/songwriter Laura Gibson, is both the latest installment of her expertly crafted, eerily spectral folksongs and a vista onto new musical territory, where violins and Wurlitzers provide the backdrop for Gibson's haunted, heartfelt lyrics. In other words, Goners is the newest terrific piece of work from one of Portland's best. (Sun Oct 27, 9 pm, Mississippi Studios, $20-25) NED LANNAMANN
Kero Kero Bonito
It's always interesting to watch a band change and grow. London-based Kero Kero Bonito made its name as an ultra-catchy electro-pop act before transforming into a fuzzed-out electro-rock band focused on darker themes for their 2018 album Time 'n' Place. A year later, the trio has evolved again for their new EP Civilisation I, by emboldening their arrangements, pulling in a broader palette of sounds, and expanding their thematic scope to explore political division, climate change, Biblical imagery, and the end of mankind. Have they lost their penchant for effervescent melodies? They have not! After all, this is still Kero Kero Bonito; it's just a more fully developed version. (Sun Oct 27, 8:30 pm, Wonder Ballroom, $20, all ages) BEN SALMON
Dating Pool: The Game Show
A funny, sexy dating show hosted by certified intimacy educator Stella Harris, Dating Pool is a body positive, consent-forward onstage dating game that pairs Portland's most interesting romance-seekers with three mystery sweethearts behind a screen. The conceit is pretty regular-sauce, but the show's spice level is hot hot hot! Hilarious lifeguard Jenna Vesper stands ready with a whistle, ensuring boundaries are observed and the crowd minds their fucking manners! (Sun Oct 27, 8 pm, Doug Fir, $12-15) SUZETTE SMITH
Evil Dead 2
Rejoice Deadites and Kandarian Demon enthusiasts! It's time to watch the greatest and funniest horror sequel of all time—1987's Evil Dead 2. It's a gore-soaked, maniacal package of fantastic featuring Bruce Campbell and his chin, more quoteables than The Big Lebowski, Sam Raimi's 1973 Oldsmobile Delta 88, the scariest noises ever committed to film, and buckets of ooey-gooey blood. (Sun Oct 27, 9:25 pm, Academy Theater, $3-4) COURTNEY FERGUSON
Whitney, Lala Lala
The Chicago-based band headed up by vocalist/drummer Julien Ehrlich and guitarist Max Kakacek bring their laidback blend of indie folk and rock back to town for an all-ages show supporting their sophomore album. (Sun Oct 27, 9 pm, Revolution Hall, $25-30, all ages)
Shovels & Rope, John Paul White
The Charleston, South Carolina-hailing folk act comprised of husband-and-wife duo Michael Trent and Cary Ann Hearst bring their live show to the Crystal Ballroom stage for the Portland stop on a tour supporting their latest, By Blood. (Sun Oct 27, 8:30 pm, Crystal Ballroom, $30, all ages)
P-Lo, Guapdad 4000
The Bay Area rapper and founding member of the Heartbreak Gang makes his way up the coast for an all-ages show supporting his latest album, Shine. (Sun Oct 27, 8 pm, Hawthorne Theatre, $16-20, all ages)
Don't forget to check out our Things To Do calendar for even more things to do!