D.I., Crimetime, and Here's Your Warning
This event is in the past
$13.33
21+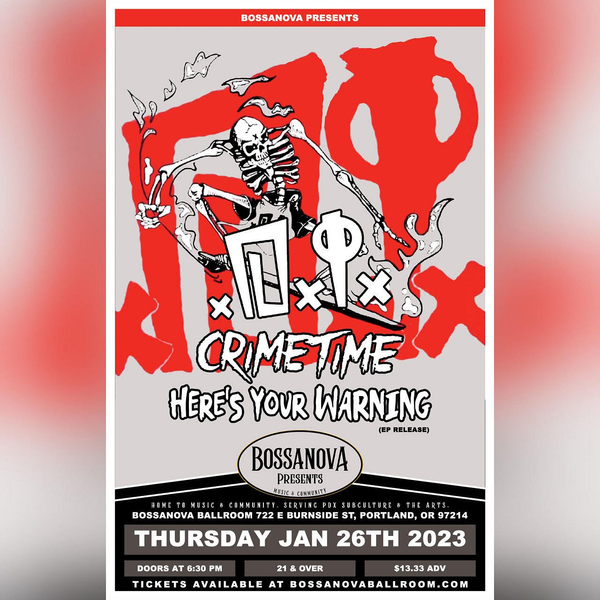 "
Coming out of the streets of Fullerton California, D.I. was formed in the shadows of The Adolescents back in 1983 in a studio behind a pawn shop. The Adolescents, Social Distortion, Agent Orange and several other local early punk rock pioneers were the breeding ground from which D.I. was born. D.I. branded their own from of punk rock that complimented the Orange County Punk scene in sound and attitude.
Casey Royer is known for his cutting and outrageous social commentary through humor and he continues to power out the juice as only one from the original scene can. All the present members were part of the Fullerton and north Orange County Punk scene which proves to be the key ingredient to keeping the personality that makes D.I. what it is.
Crimetime
Out on bail and ready to roll, Washington's CRIMETIME is coming in hot with their own brand of high energy punk rock. Formed in the Summer of 2021, these pavement-pounding criminals released a full length record produced by Nashville's own Dustin "Oz" Osborne at the legendary London Bridge Studio (Seattle, WA). They have been touring the US nonstop as well as the UK including the introduction stage of Rebellion Fest in Blackpool, England. If you love their record, ya' gotta catch the live show! These boys are relentless, crushing and guarantee to make that booty move while a smile rips you ear to ear.
Songs touch on delightful topics such as:
Disposing of federal agent bodies, letter bombs, and hanging yourself in front of the courthouse! There's truly something there for everyone.
" (Promo Copy)