Pix Pâtisserie/Bar Vivant
2225 E Burnside St
(Kerns)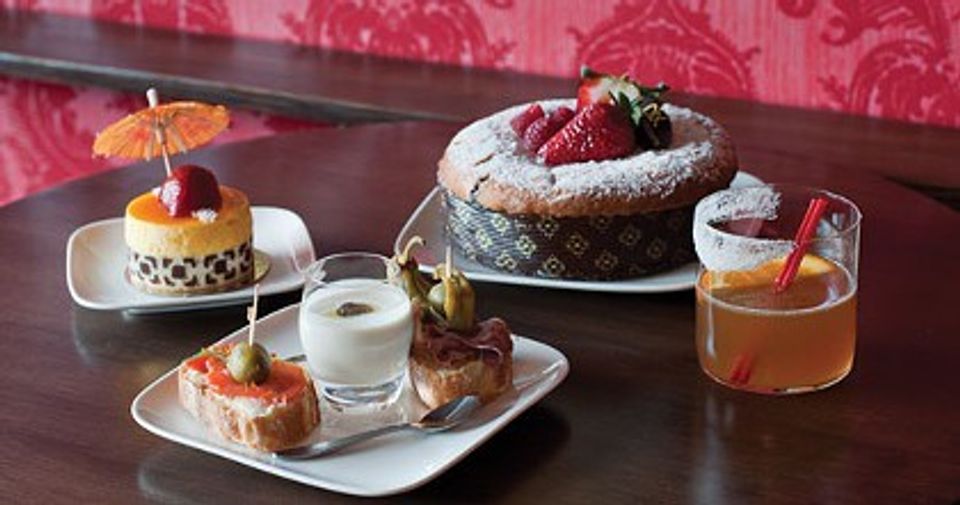 p>At the heart of the concept is an authentic tapas bar, featuring bite-sized skewered classics like
pintxos
of pepper and anchovy, tapas of ham
montaditos
and
pulpo
, and fried-to-order
croquetas
. The assortment is large and vibrant enough to instill the confidence of freshness, and prices are so low ($1-5) that experimentation is painless. Other vestiges of imported authenticity are ciders aerated through a proper
escanciador
(T-neck nozzle), free potato chips that take the place of peanuts, and the custom of throwing your napkins on the floor. In the bar half of the restaurant you drink standing up, which encourages a refreshingly animated dynamic.
The pride of the house is clearly the staggering inventory of liquor, cider, sherry, and champagne. Particularly champagne: I counted 20 pages of bottles, 20 bottles to a page, climbing the ranks all the way to a $1,200 jeroboam of 1999 Bollinger (disgorged August 2008, they say, because if you're dropping the mortgage on a bottle you should know these things).
The house cocktail recipes are ambitious, and generally successful. The Four Humors (byrrh, white rum, orange liqueur, and lemon, $8) is a strongly flavored rum sour where byrrh combines with citrus to create an interesting new flavor of sharp pink grapefruit and lychee. The Veranda (brandy, orange liqueur, and Basque cider, $8) has a dry apple start, a dry, yeasty, fermented cider middle, and finishes cleanly with more apple—a light, warm weather all-dayer. The Slight Return (Cocchi Americano, Bonal, gin, and yellow Chartreuse, $9), unfortunately, is ironically just that: It's a slightly modified Chartreuse cocktail where the tricky aftertaste of Cocchi vermouth finishes like cloying oxidized wine. The drinks also don't seem to be described in major-to-minor ingredient order, so the character of your drink can be unpredictable. The pricing is quite fair, though, with little surprises like a two-ounce pour of Campari for $5.
Whether or not you began your evening there, Bar Vivant is where you should return for drinks and dessert, because Cheryl Wakerhauser's patisserie (half of this space is her original concept, Pix Patisserie) are in a class of their own. Her French-inspired creations have rarely had competition in the categories of beauty, textural composition, and flavor... they've been steadily available in town for so long, I almost feel like I take them for granted. Their iconic Shazam! ($7), a creamy caramel mousse with salted almonds, chocolate almond cake, and more caramel, enrobed in a collapsed sheath of chocolate, is elegant perfection, as is their award-winning Amélie, a chocolate mousse with praline, genoise, and hazelnuts ($7).
Bar Vivant is a loose and relaxing lounge to enjoy before and after your meal, but also an excellent option on its own merits. The assortment of food and drinks is unique within the city, and as a whole it's a successful execution of a mad, hedonistic, and worldly vision.
-CHRIS ONSTAD
Map & Directions
Upcoming Events
at Pix Pâtisserie/Bar Vivant
We didn't find any upcoming events at this location.
---