This event is in the past
This is an in-person event
$25
All Ages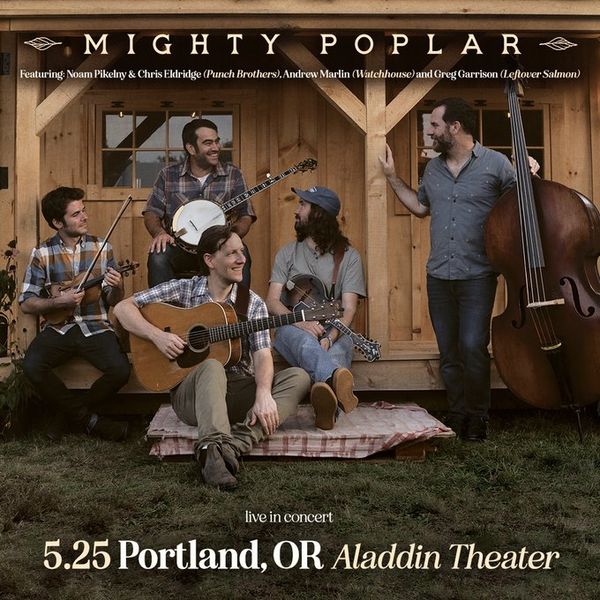 The following description was submitted by the event organizer.
At its heart, bluegrass music is about what happens when you commit to the moment. The joy of improvisation keeps the music fresh, and the fun of crafting ideas on the fly keeps the musicians on their toes. This true spirit of bluegrass infuses the self-titled record from Mighty Poplar, a new all-star roots project featuring Andrew Marlin of Watchhouse, Noam Pikelny and Chris Eldridge of Punch Brothers, bassist Greg Garrison (Leftover Salmon) and fiddler Alex Hargreaves (Billy Strings) coming March 31, 2023 on Free Dirt Records. Regarded as some of the finest players of their generation, the playing is never showy and always in service of the song. Though Pikelny, Eldridge, Garrison all knew each other from their early work with Punch Brothers, impromptu backstage jams with Marlin at festivals across the country were the key that unlocked the project. A lifelong song collector, Marlin selected and sang lead on most of the songs here, bringing classics as well as deep cuts from greats like Hazel Dickens & Alice Gerrard, John Hartford, Bob Dylan, Leonard Cohen, and Norman Blake. Throughout, the songs and tunes are as immediate and emotionally impactful as the playing is tasteful. Gathered knee-to-knee in a rural studio outside Nashville, the collaborative 10-track album emerged organically over a few days. "It felt so special and effortless; it didn't take work," says Eldridge, "other than the work and effort we've put in the rest of our lives." With their debut album, Mighty Poplar has captured the fierce and playful energy of an all-night jam between old friends who just happen to be grandmasters of the music.
There's a level of curiosity and engagement that's only found at the highest echelons of music making. What sets Mighty Poplar apart from the members' full time endeavors with Punch Brothers, Watchhouse, Billy Strings, and Leftover Salmon is that this band "is a chance to play real deal bluegrass", says Eldridge. Pikelny agrees, adding that "in some ways this album is biographical for each one of us. It was an opportunity to play the music that we love at our core, and the music that has informed what we do in our other long-standing projects." Ultimately, there was a kind of joy and relief in coming back to their roots in celebration and camaraderie. "There's a reunion element to this," he says, "which is ridiculous because it was the first time all five of us were in the same room. But the ease in which it came together felt like we were getting the band back together."
On sale Fri Feb 3 at 10 am.