This is an in-person event
$25
18+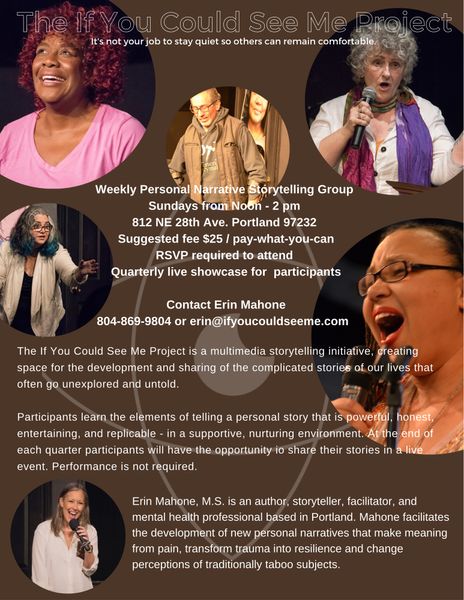 The following description was submitted by the event organizer.
Sunday Stories: Weekly Personal Storytelling Workshop

Sundays from Noon - 2 pm

812 NE 28th Ave. Portland 97232

Suggested fee $25 / pay-what-you-can

RSVP required to attend

Quarterly live showcase for participants

Contact Erin Mahone

804-869-9804 or erin@ifyoucouldseeme.com

If You Could See Me Project is a multimedia storytelling initiative, creating space for the development and sharing of the complicated stories of our lives that often go unexplored and untold.

Participants learn the elements of telling a personal story that is powerful, honest, entertaining, and replicable - in a supportive, nurturing environment; while exploring ways to effectively address creative blocks, self-doubt, and the inner-critic to uncover their "Strong Stories."
The If You Could See Me Project is a 501c3 nonprofit organization that welcomes participants from all backgrounds and experiences to develop and share personal stories of healing, cyclebreaking, and personal liberation.
At the end of each quarter participants will have the opportunity io share their stories in a live event. Performance is not required.

Facilitated by If You Could See Me Project creator, Erin Mahone, M.S. Mahone is an author, storyteller, facilitator, and mental health professional based in Portland. Mahone writes, tells, and teaches others to create personal narratives that make meaning and extract power from the human experience.