Saturday, April 27, 2024, 9 am
This is an in-person event
$89 - $179
All Ages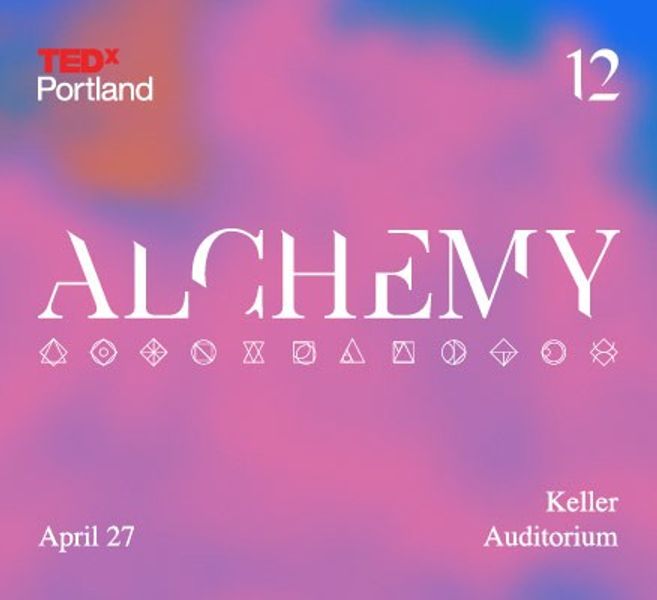 The following description comes from the event organizer.
We are thrilled to announce that TEDxPortland Year 12 date is set for April 27, 2024, and is returning to the iconic Keller Auditorium.
Tickets go on sale this Wednesday morning, November 8, at 10am.
Get ready to secure your spot and be part of this incredible experience! The event will sell out.
YEAR 12 THEME: ALCHEMY
Cities are built and rebuilt, and Portland is in transition once again. With leadership, intention, and purpose we drive progress by uniting our diverse perspectives. The magic of our culture and community is realized through the amalgam of creativity, technology, and innovation.
Year 12 is inspired by the unlimited potential and endless possibilities revealed through the alchemy of ideas. Twelve speakers, represented by 12 vibrant colors and unique symbols, will demonstrate how essential we all are in catalyzing change—in the Rose City and beyond.
Join us on April 27, 2024, for the most inspirational and educational day of the year. Together we will challenge each other to think differently and take action because Portland is what we make it.
Enjoy 12 speakers and 4 performances that comprise the most inspirational, educational day of the year in our city!
On Sale Wednesday, November 8, 2023 at 10 am.

Year 12 speakers and performers will be revealed on February 10, 2024.
Thank you for being a part of TEDxPortland's incredible community.