What a Tangled Web We Weave
This is an in-person event
$15
All Ages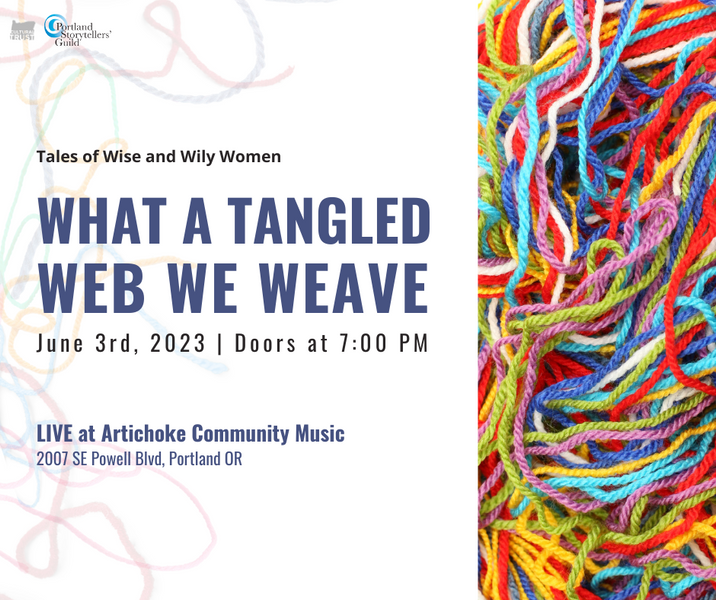 The following description was submitted by the event organizer.
The Crones Present Tales of Wise and Wily Women
Exactly how DID Penelope fend off all those pushy suiters? And what secrets did Spider-Woman whisper in Anne's ear that day in her garden?
Whenever the Crones gather, you can be sure there will be exciting conversations, secrets revealed, and ancient wisdom shared over a few libations. So, join Anne Penfound, Pam Maben, Julie Strozyk, and Barbara Fankhauser—crones, all self-proclaimed—as they weave together an evening of wise and witty stories about wise and wily women.
About the Venue:
The show begins at 7:30 pm, and doors open at 7:00. There is limited seating available, so don't be afraid to get there early for the best seats. Our lovely hosts have a partial bar with bottled and canned refreshments, as well as a handful of snack options available for purchase.
About the Performers:
Anne Penfound presents original stories and multicultural tales that have inspired multi-aged audiences since 2001. Anne's style and quirky British humor, facial expressions, voice, and gestures take you right into the heart of a story. These stories fan the embers of our experiences and act as a catalyst to help us recall memories, broaden our horizons and tickle our funny bones with the enjoyment of life.
After all these years, Barbara Fankhauser says she is "more than qualified to call herself Crone." And now that time has become such a precious commodity, she prefers to that carry the wit, wisdom, and knowledge that is older, even, than herself, forward with the stories she tells. Barbara's most beloved tales involve goddesses and crones and wise folk who come from her own cultural roots in Scandinavia and the British Isles.
Julie Strozyk began her storytelling career by enthralling her classmates with "scary stories" in the 6th grade. These were extemporaneous tales of mad scientists and vampires made up on the spot. She has won various bardic competitions within the SCA including membership in the Order of the Laurel, the highest artistic honor. Julie enjoys traditional, historical, and personal tales that touch the heart and "give it a little squeeze," along with poetry, music, and all things beautiful. She also spends time engaging in other arts and crafts, especially sewing, reading, playing music and attempting to be a true Renaissance Woman.
Pam Maben has been immersed in this world of story for more than 25 years. She finds a never-ending source of deep wisdom in folklore and mythology. She believes that "Story enriches our lives in many ways. It can bring us a greater sense of truth than factual information." Navigating the fine line/chasm between the imaginal and the real world, between myth and truth at a deep level in stories has engaged Pam for many years. These stories bring us their treasures and can take us on far journeys of the mind and heart without ever leaving home. Slowly but surely this path brings us nearer to wisdom.