DEAFhood: Reflections on Identity and Deaf culture
Wed - Sat, through Dec 2, 11 am - 5 pm
Free
All Ages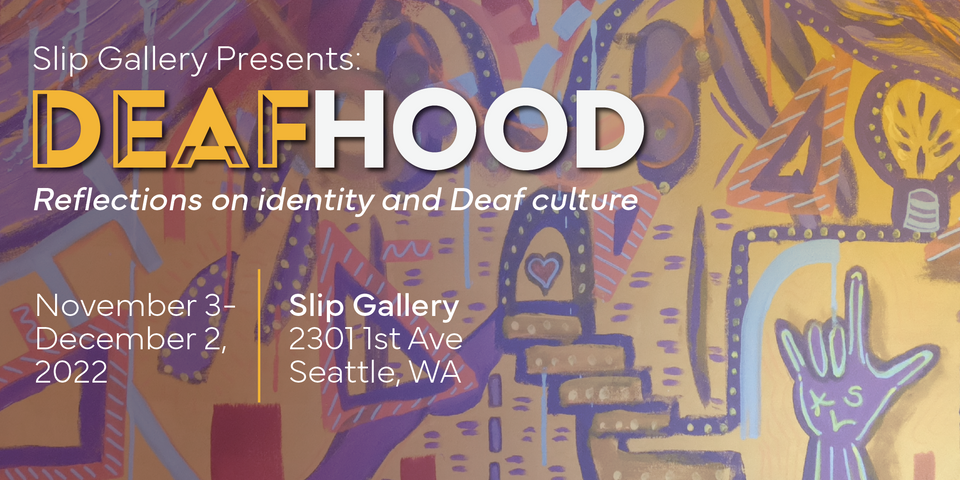 "From Thursday, Nov. 3-Friday, Dec. 2, 2022, Slip Gallery will present a group exhibition of works by Deaf artists living in Washington State. The exhibition includes paintings, photography, mixed media, motion graphics, and digital art by
Gabriella Duncan, Toby Fitch, Jena Floyd, Tommy Fuglestad, Kimi Hager, Jennifer Harris, Amelia Milling, Aistė Rye, Paul Scearce, Jerry Steffen Jr., and Brad Thornberry.
DEAFhood
invites viewers to consider the Deaf experience in a world primarily designed for hearing and able-bodied people. The artworks express the Deaf experience from a cultural, linguistic, and intersectional point of view (also known as Deaf View/Image Art or De'VIA). Human anatomy is central to these works, with hands featured the most often. Whether as a call to political action, an expression of solidarity and community, or an invitation to touch the work, viewers can appreciate the essential role of hands as a form of communication.
"Lately based on my recent works, I notice I tend to lean towards simplicity while dealing with issues that may seem complicated and political such as audism, Deafhood, accessibility, social justice, intersectionality, oppression, and discrimination," said artist Jena Floyd. "Simplicity is akin to having common sense—that any Deaf person's identities and intelligence shouldn't be questioned or underestimated by mainstream society, a.k.a the overly audio-oriented world. I hope that my works leave a lasting impression on people who seek to understand Deaf people, Deaf culture, and American Sign Language."
Slip Gallery
is an art gallery located in the heart of the Belltown neighborhood in Seattle at the corner of 1st and Bell. Slip Gallery was born from a love of art and the desire to create opportunities. An extension of the
Belltown Art Walk
nonprofit 501(c)(3) charity, and partly sponsored by
Sassafras boutique
, the gallery exists because of support from community donations.
Gallery Hours:
Wednesday-Saturday, 11 a.m.-5 p.m. Closed Nov 23-25 for the Thanksgiving holiday." (Promo Copy)
2301 1st Avenue Seattle, WA 98121