Emma Ramadan and Olivia Baes with Elissa Gabbert — 'The Easy Life' by Marguerite Duras
This event is in the past
Free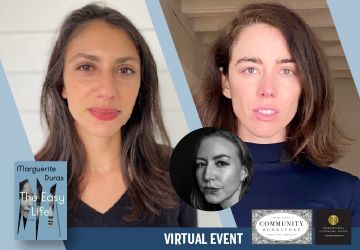 "
Third Place Books is thrilled to partner with Community Bookstore (Brooklyn) and the Transnational Literature Series at Brookline Booksmith (Boston) to present translators Emma Ramadan and Olivia Baes, discussing a new translation of Marguerite Duras with poet, essayist, and critic Elisa Gabbert.
Co-translated by Ramadan and Baes, The Easy Life is Marguerite Duras's novel about a young woman's existential breakdown in the deceptively peaceful French countryside. An extraordinary examination of a young woman's estrangement from the world that only Marguerite Duras could have written, The Easy Life is a work of unsettling beauty and insight, and a bold, spellbinding journey into the depths of the human heart.
This event will be broadcast live on Zoom. Registering will provide you with a unique access link in an email. During the event, you can ask questions using the Q&A feature, or chat with fellow attendees. A recording of the event will be made available and emailed to all who register.
This author talk is free! You can sustain our author series by purchasing a copy of the featured book.
" (Promo Copy)