Mark Hummel's 30th Annual Harmonica Blowout
Multiple dates between Feb 17 - Feb 18, various times
Triple Door
Downtown Seattle (Seattle)
This is an in-person event
$35 - $45
All Ages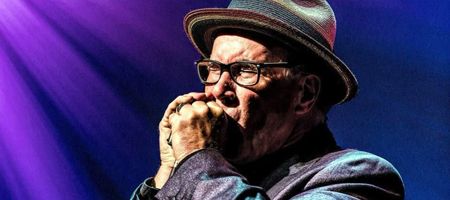 "
MAGIC DICK-original Harmonica MasterBlaster for superstars, multi-platinum selling rock band J. Geils Band! The band scored 6 Top 40 Hits in 70s-80s plus a number one record with Centerfold. Creator of Whammer Jammer harp anthem.

DUKE ROBILLARD-is one of the most in-demand guitarists for last Fifty plus years, recording with Bob Dylan, Fabulous Thunderbirds, Roomful Of Blues( Duke founded the band), Robert Gordon, John Hammond, J.Geils, Scott Hamilton, Herb Ellis, Ronnie Earl, Jimmy Witherspoon, Roscoe Gordon and many more. Robillard is a three-time Grammy nominated artist. Duke has 37 solo recordings as well.

SUGAR RAY NORCIA-Rhode Island Hall of Famer ,singer-blower extraordinaire is one of DION's favorite vocalists. Ray has led the Blue Tones for 40 plus years-they've won many Blues Music Awards. Ray was nominated twice for Grammy Awards, for Superharps and Hummel's Remembering Little Walter.

ANSON FUNDERBURGH-is the legendary Texas Guitar hero who started the Anson and the Rockets in Dallas in 1976. Anson has appeared on TV with BOZ SCAGGS, appeared in China Moon w/Ed Harris and Madeline Stowe. Anson hired bassist Mike Judge in 1988-1991. Rumor has it animator Judge based Bevis and Butthead on Anson's shenanigans and hairstyle! Blind Sam Myers played in the Rockets with Anson for 20 years.

AKI KUMAR-is a very popular creator of Bollywood Blues in the San Jose part of the Bay. The former techie is now a serious harp blowing front man who never fails to charm an audience. Aki is on both Sony Music and Little Village Records, toured India, Europe, Russia and appeared on NPR.
" (Promo Copy)