Thu - Sun, from Dec 8 - Dec 18
$10 - $20
All Ages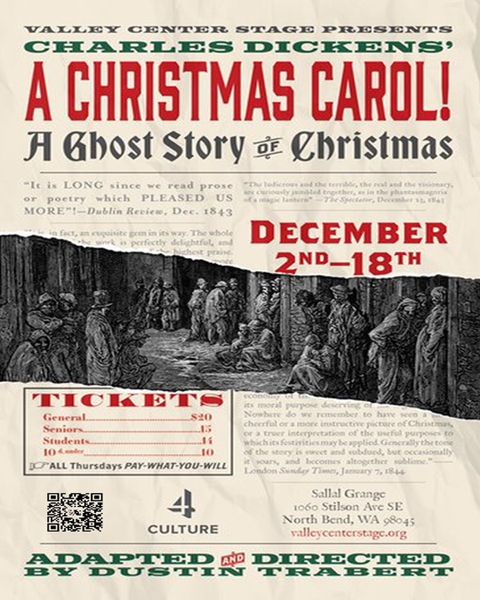 "A Christmas Carol
Valley Center Stage's beloved annual tradition returns with a new production of A Christmas Carol. Ebenezer Scrooge is a businessman whose lonely Christmas is invaded by a series of encounters that force him to examine his life. Join us for our celebration of Charles Dickens' timely and timeless tale about choices and connections, character and community, and ghosts.
Week 1: Friday 12/2, 7:30pm, Saturday 12/3, 2pm, Sunday 12/4, 2pm
CANCELLED DUE TO WEATHER
Week 2: Thursday 12/8, 7:30pm; Friday 12/9, 7:30pm; Saturday 12/10 two shows -- 2pm and 7:30pm; and Sunday 12/11, 2pm.
Week 3: Thursday 12/15, 7:30pm; Friday 12/16, 7:30pm; Saturday 12/17 two shows -- 2pm and 7:30pm; and Sunday 12/18, 2pm. matinee)" (Promo Copy)
119 North Bend Way, North Bend North Bend, WA 98045