Swarotsav: Mahesh Kale Concert
This event is in the past
$10 - $54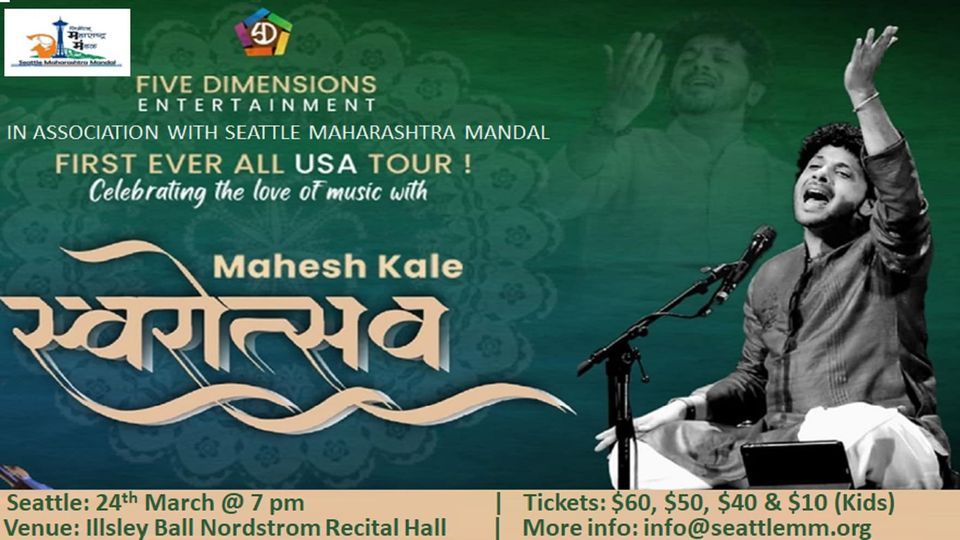 The following description is from the event organizer.
Swarotsav - Celebrating the love of music with Mahesh Kale.
Ever wondered what defines the essence of Maharashtra? Come to any festival and have a look at the magic it creates. Masses of people across geographies joining the band wagon as "one tribe" to celebrate, commemorate & welcome the festival. Making it a gala of rejoicing that enlightens our lives, hearts & minds. Connecting us physically, mentally, and spiritually.
A concert of the arts & culture world and at its core lies our Indian classical music and its aura. Holi, the festival of colours, is one such festive occasion that blends the historical, cultural, and traditional with emotions and spirituality. When all these shades of colours come alive with a touch of Indian classical music, what a splendour of musical colours it will be.
Please hold your breath for one such experience Swarotsav. Put together by none other than our very own, Mahesh ji Kale, a National Award Winner. Swarotsav, a series of concerts blended with the core of our music and drenched in the feel of Maharashtra. Experience the many colours of emotion, and spirituality that represents our values and traditions.
Buy tickets before Feb. 15th and receive a 10% early bird discount!
Event Location
200 University St Seattle, WA 98101